Asya Geisberg Gallery is pleased to present Jasper de Beijer's newest series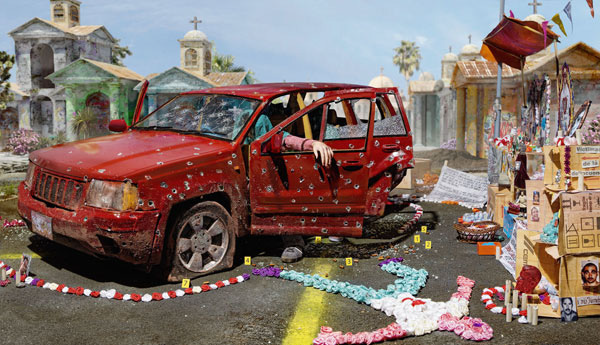 Marabunta #1, 2012. C-Print on alu-dibond, 45" x 79"
MAY 31ST – JULY 7TH 2012
OPENING RECEPTION: THURSDAY MAY 31, 6 – 8 PM
ARTIST TALK & BOOK RECEPTION: SATURDAY JUNE 9, 4 PM
OPENING RECEPTION THURSDAY THE 31ST OF MAY BETWEEN 6-8
Marabunta, an exhibition of photographs by Dutch artist Jasper de Beijer. In each of his prior series, De Beijer has created elaborate models in his studio out of paper and other sculpture materials, based on images from media and historical sources, and often concerning colonialism and its representation.
In each series, he approaches the very nature of historical depiction, using varying modes of photography and questioning culturally embedded images. With Marabunta, De Beijer takes the paraphernalia of the Mexican drug war as his inspiration, particularly the mystical and visually obsessive interest in celebrating the flamboyant lives of its leaders and colorful deaths of its victims. De Beijer carves a world in Marabunta that is alarming, chaotic, and reverential – an unnerving amalgam of the omnipresent iconographies of death.
Ominously dominating more of our news, the cartel wars in Mexico have resulted in increasingly more outrageous acts of murder and mayhem. Bodies are beheaded, covered in warnings and signs, left in broad daylight and in city centers.