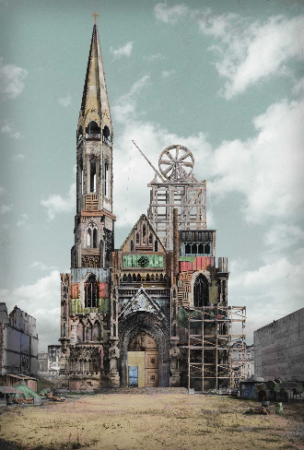 Art Brussels 37th Edition
FLATLAND BOOTH C01
Friday 26 to Sunday 28 April, 11 am – 7 pm
Vernissage Thursday 25 April, 5 pm – 10 pm
Jasper de Beijer, Kim Boske, Stelios Karamanolis and Guy Yanai
Flatland is excited to participate again at Art Brussels Art Fair. At the annually held contemporary art fair in the capital of Europe, Flatland's booth comprises of a quartet of artists: Kim Boske, Jasper de Beijer, Stelios Karamanolis and Guy Yanai. While the artists create significantly diverse work, the selection of works shown at Art Brussels collectively touch upon the same associative theme: 1870 – 1930. The works recall the fresh forms and procedures of artistic movements from this period, between abstract and illusionistic dream imagery, but in favour of imagery charged with meaning.
Illustrating this, is the cathedral of Jasper de Beijer, in Wir Sind das Gedachtnis #01. The dream that was Germany in 1871 is over. This series explores how a community which gets up at their feet after World War II, tries to erect silhouettes of its culture from a vague recollection of its past. The reconstruction of cityscapes, which over time can be demolished and rebuild before it loses its identity, brings promptly another cathedral to mind. The Notre Dame, caught by apocalyptic fire this week, shakes up notions of transiency and how fragile the framework of a cultural heart of a nation can be. This inspired the Parisians to recover their identity, rebuild the cathedral with the same determination they shared in former times.
WIELS – Jasper de Beijer
The Exhibition – VR / Show
FLATLAND is proud to announce Jasper de Beijer's VR / show in WIELS, Centre for contemporary art, in Brussels at the end of June. De Beijer, in 2018 artist in residence at Wiels, created a VR / experience in which the viewer can define his own (digital) ethnographic-colonial museum, thus museum experience. With this De Beijer has created a parallel universe to the world of the ethnographic diorama and how these tableaux vivants in ethnographic museums are more a reflection of the zeitgeist than an objective representation. Please note: limited places for the opening at Wiels in June 2019.